Dear shoe fetishists,
you may indeed have a shoe fetish but I will never know!
This is because of the thousands of other women who say "I'll let you on a little secret' and then tell you they have a shoe fetish.
Corns and blisters! What rubbish.
On behalf of nonsense everywhere, I apologise for them.
Sincerely, Enid.
Dear non-shoe-fetishists, masquerading as shoe fetishists:
Dictionary.com defines fetish as:
Noun.
An inanimate object worshiped for its supposed magical powers or because it is considered to be inhabited by a spirit.
A course of action to which one has an excessive and irrational commitment.
Are you Dorothy? Do you think your shoes are going to whiz you back home the minute you click your heels together? Or do you stand up hubby for a dinner date because you want to stay home and admire those bits of cow leather all lined up in your wardrobe?

I thought not.

Now, before we degenerate into mud-slinging in our slingbacks, please hear me out. It is not that I don't like shoes: I am in passionately in love with my roller skates (if they can be classified as shoes) and in another lifetime I did spend two months hunting for the perfect wedding day shoes (red leather, Italian, low-heeled numbers that looked DIVINE peeking out from my white dress). One of my earliest memories is of me looking down at my very own feet clad in be-yoot-i-ful red patent leather Mary Janes.
However, there are better things to spend money on, or even think about, like, um, donating money to eliminating third world poverty or even the bushfire appeal in your own backyard.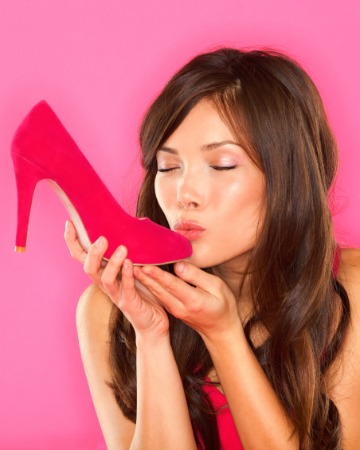 I realise if you have a real fetish, you can't help it (it takes all types to make a world and those who wish to plant a little kissy on their designer bits of cow are welcome to do so) but ...
for the rest of you I'm calling you on it.
Just last week, the good old
Women's Weekly
ran a article on
50 Shades of Vom
and what various literary ladies about town thought of this phenomenon. It included this quote from Zoe Foster (writer for
Cosmopolitan
): "
Sex And The City
kicked things off, establishing the outrageous concept that women are allowed to have casual sex and not feel shame or guilt, and are also allowed to spend a lot of money on shoes, which some (me!) have argued is equally significant."
Um, hello?! Does anyone remember the
SATC
episode where Carrie realises her rent-controlled apartment is about to sold from underneath her modern-day-heels-as-foot-bondage feet and she doesn't have the $40,000 down payment and realises that she has 100 pairs of Manolo Blahniks that, essentially, would have covered the payment? This was NOT a good day. (Also, nor was any other day she had - maybe for all the characters - because they sat around and wondered 'does he like me?" without realising that after TEN YEARS of this self-absorption it was probably impossible for any man to like them, ever, or even some women, which is why they didn't watch the show. Frick.).
Podiatrists, please help me out here.
Also, non-shoe-fetishists, whenever you 'confess' to having a shoe 'fetish' (knowing that the other woman is likely to have a shoe 'fetish' too and thus hoping you can bond together over bits of cow on their feet or something) and you say "Hahahaha, I'm just a regular Imelda Marcos" ... realise that occasionally another woman's insides may CURDLE because um, hahahaha, oh yes, she does not find it funny to link herself to the real Imelda who HAD A CLOSETFUL of shoes while THOUSANDS OF PEOPLE WERE TORTURED AND MURDERED. Yup, not funny at all.
Also, before you think I hate you, I don't. Caitlin Moran, awesome woman extraordinaire and feminist, says it much better than me, and even has a little clip about shoes and why she has so many even while knowing it's kind of ludricous (although she talks about other stuff first). Please, if you do nothing else today, watch this:
Love your shoes, take care of them, kiss them goodnight if you must but don't buy hundreds, or even lots, give the excess away, and for heaven's sake in the name of feminism (watch the clip) DON'T TELL PEOPLE YOU HAVE A SHOE FETISH (unless, of course, you do).
Skate or die!!,
Enid.
I'm linking up today with With Some Grace for Flog You Blog Friday: